---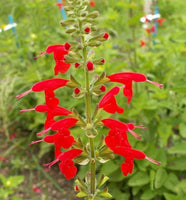 Always Free Shipping!
Item specifics
Seller Notes: Germination test date and results will be on packet.
Country/Region of Manufacture: United States
Climate: Temperate
Brand: zellajake
Scarlet sage is a subshrub perennial in warmer climates and an annual where winter temperatures stay below freezing for more than a few hours at a time. Scarlet sage reaches 2-3 ft (0.6-0.9 m) tall, with 1-2 in (2.5-5 cm) triangular leaves on long petioles (leaf stems) opposite each other on a square stem. The showy flowers are bright red, about an inch long, and arranged in loose whorls along the upright stem. Blooms appear continuously from early summer to first frost. There are several cultivars, including pink ones, white ones and bicolored ones. Don't confuse this species with the popular bedding plant, Salvia splendens (also called scarlet sage), a frost-tender perennial from Brazil (usually grown as an annual), most of whose many flamboyant cultivars do not attract butterflies or hummingbirds, and do not reseed themselves.
Location
Scarlet sage occurs naturally in dry soils and waste places from South Carolina to Florida and west to Texas and Central America, and in the West Indies.
Culture
Light: Does best in full sun but can tolerate intermittent shade.
Moisture: Tolerates drought, but flowering suffers without supplemental watering during dry spells.
Hardiness: Can be planted from seed and grown as an annual to USDA Zone 4. Will survive the winters in Zones 9 and 10 and sometimes in Zone 8. Will reseed itself annually in zones 6-8.
Propagation: By seeds. Established plantings will persist by reseeding.
Terms and conditions, READ THIS PLEASE: Orders over $14 from this ad will be shipped with tracking, Otherwise: Seeds will be shipped economy/standard or first class 2-10 day shipping (NO TRACKING and no planting instructions to keep seed costs to the buyer low), in a ziplock baggie. Our goal is to save you money on quality seeds. We are responsible sellers, and we make sure our buyers are well taken care of. Shipped within 2 business days after payment. We are a seller that caters to experienced gardeners. (germination and plant care information is readily available online, but if you can't find germinating and care instructions, please feel free to message us). Most of our listings include germination instructions, so we do not ship growing instructions. Multiple orders of a single item will be combined into 1 ziplock. We are not responsible for buyer germination success, seeds have been tested. Seed count is approximate, and packaged by weight. Seeds vary in size, weight is exact, and based upon empirical count, quantity is estimated. Liability of seller is limited to the cost of the item(s).
Zellajake Farm and Garden: "Seeds for all your planting needs" since 2013