---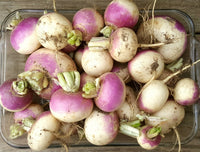 Always Free Shipping
TURNIPS
Tested 12/2016, germination 86%
Purple Top White Globe (55 Days)
Brassica rapa
HEIRLOOM. A timeless variety. Versatile garden vegetable. Long-time favorite still "tops" with turnip lovers who prize it's deliciously sweet and tender white roots. The turnips are often 4" to 6" across, and as the name states, are purple on top and white below. Round, crisp, creamy-white roots have a mild, sweet flavor. Young leaves make the classic cooked "southern greens". Tops can be eaten as greens and roots are excellent for storing, canning or freezing. Excellent vitamin content. Large, sweet, fine-grained root crop. Stores well. EASY TO GROW!
12,500 seeds per ounce.
200,000 seeds per lb.
Seed Rate: 5-10 lbs. per acre
Seed Depth: 1/8 - 1/4 inch
Planting Date: Fall, Winter, Spring
pH: 5.5-6.5
Fertilizer: 8-8-8 250 lbs. per acre
Days To Germinate: 7-14
Days To Maturity: 55 Days
Spacing, Row: 18 inches
Spacing, Plant: 4-6 inches
Light: Sunny Location
SOWING: Plant seeds outdoors three weeks before the last frost in the spring (Or early spring as soon as the ground can be worked). Seed second crop in mid to late summer for fall harvest. Cover seeds with 1/4 inch fine soil. Space rows 18 inches apart.
THINNING: When young seedlings are 2 to 4 inches tall, thin to 4 to 6 inches apart.
HARVESTING: Harvest greens when they are large enough to pick, leaving just a few of the tops so the roots will live. Loosen the soil at the base of the leaves with a spading fork before harvesting roots. Small roots are the most tender, so pull when they are 1"-3" in diameter. To store the roots, twist off the tops, leaving 1/2 -inch of stem. Place undamaged roots in a cool, dark place, such as a basement or root cellar. Don't wash off soil that clings to roots; it helps protect roots in storage. They will keep for several months. In mild areas, you can overwinter roots in the ground by covering them with a thick mulch.
SUGGESTIONS: Avoid using fresh manure in soil where you plant turnips. Plants produce best in light, well-drained soil. Eat thinned greens raw or stewed. For best flavor and texture grow during the cooler parts of the growing season and begin harvesting roots when about three inches in diameter. Keep the soil evenly moist to promote fast growth and the best flavor.
Terms and conditions, READ THIS PLEASE: Orders over $14 from this ad will be shipped with tracking, Otherwise: Seeds will be shipped economy/standard or first class 2-10 day shipping (NO TRACKING and no planting instructions to keep seed costs to the buyer low), in a ziplock baggie. Our goal is to save you money on quality seeds. We are responsible sellers, and we make sure our buyers are well taken care of. Shipped within 2 business days after payment. We are a seller that caters to experienced gardeners. (germination and plant care information is readily available online, but if you can't find germinating and care instructions, please feel free to message us). Most of our listings include germination instructions, so we do not ship growing instructions. Multiple orders of a single item will be combined into 1 ziplock. We are not responsible for buyer germination success, seeds have been tested. Seed count is approximate, and packaged by weight. Seeds vary in size, weight is exact, and based upon empirical count, quantity is estimated. Liability of seller is limited to the cost of the item(s).
Zellajake Farm and Garden: "Seeds for all your planting needs" since 2013