---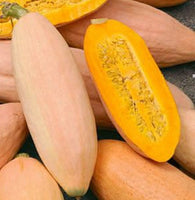 Always Free Shipping!
Item specifics
Seller Notes: Germination test date and results will be on packet.
Country/Region of Manufacture: United States
Climate: Sub-tropical, Temperate
Brand: zellajake
Current Facts
Banana squash is a member of the winter squash family and of the species Cucurbita maxima, the most diverse domesticated and cultivated species of squash in the world. There are far more than one single cultivar of Banana squash, including Pink and Blue Banana squash varieties, hybrid varieties (often labeled as "Rainbow") and the highly regarded heirloom varieties, Sibley and Pike's Peak. Regardless of what variety you knowingly or unknowingly choose, Banana squash are considered top tier among all winter squash.
Description/Taste
Banana squash are cylindrical in shape and imposing in size, reaching up to 2 to 3 feet in length and averaging 8" in diameter. Though the average weight is about ten pounds, a heavy Banana squash can weigh up to 35 pounds. Their thick-walled rind, when ripe is salmon pink in color. The flesh: thick, firm, dense and meaty with a true pumpkin orange color. Regardless of the monumental size of the squash itself, its seed cavity holds few and small seeds. The cooked flesh of the banana squash is fragrant, rich and earthy sweet.
Applications
As Banana squash is a true winter squash variety, it can be used in place of other orange-flesh colored winter squash varieties such as butternut and kabocha. Banana squash is in its perfect culinary element when roasted and added to soups and stews. It can be thinly shaved and added to fresh salad greens or used as a topping for pizzas. Banana squash favors the pairing of rich and bold partners such as butter, creme fraiche, aged sheep's cheeses, cream, pork belly, lamb and truffles. The best herb and spice pairings include thyme, bay, sage, rosemary, cumin, curry, ginger, cinnamon and nutmeg. Proper storage conditions can extend the post-vine life of Banana Squash, as well as winter squash in general, for up to six months. The best way to lengthen the post-harvest is to store them in a cool (50 to 60 Degrees Fahrenheit) unlit area with relative humidity.
Geography/History
Banana squash can trace its origins back to South America. Seeds from an archeological site in Peru matched the distinct identity of today's banana cultivar. It would be traded and traveled to other regions within the Americas, yet maintain its identity as a true New World crop. The family of Banana squashes were introduced into the United States by R.H. Shumway in 1893. Though the Shumway seed catalog would be the initial Banana squash orientation within the U.S., other seed catalogs would soon follow and by the early 20th century the Banana squash was becoming a popular winter squash variety. Somehow, though, it would eventually fall out of favor to modern winter squash commonplace varieties such as butternut and acorn squash and simply more fashionable squashes such as baking pumpkins. Most Banana squash variety seeds are housed among heirloom seed savers and rarely find themselves in the commercial marketplace. Perhaps a secondary reason is that the Banana Squash require long periods of warm season weather to reach maturity, often staying on the vine for up to 120 days, requiring over a half-year to cultivate and making for a mere single crop annually.
Terms and conditions, READ THIS PLEASE: Orders over $14 from this ad will be shipped with tracking, Otherwise: Seeds will be shipped economy/standard or first class 2-10 day shipping (NO TRACKING and no planting instructions to keep seed costs to the buyer low), in a ziplock baggie. Our goal is to save you money on quality seeds. We are responsible sellers, and we make sure our buyers are well taken care of. Shipped within 2 business days after payment. We are a seller that caters to experienced gardeners. (germination and plant care information is readily available online, but if you can't find germinating and care instructions, please feel free to message us). Most of our listings include germination instructions, so we do not ship growing instructions. Multiple orders of a single item will be combined into 1 ziplock. We are not responsible for buyer germination success, seeds have been tested. Seed count is approximate, and packaged by weight. Seeds vary in size, weight is exact, and based upon empirical count, quantity is estimated. Liability of seller is limited to the cost of the item(s).
Zellajake Farm and Garden: "Seeds for all your planting needs" since 2013