---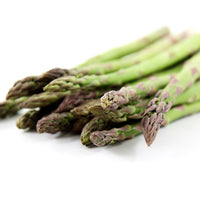 Always Free Shipping!!
Item specifics
Seller Notes: Germination test date and results will be on packet.
Country/Region of Manufacture: United States
Brand: zellajake
Asparagus has been used as a vegetable and medicine, owing to its delicate flavor, diuretic properties, and more. It is pictured as an offering on an Egyptian frieze dating to 3000 BC. Still in ancient times, it was known in Syria and in Spain. Greeks and Romans ate it fresh when in season and dried the vegetable for use in winter; Romans would even freeze it high in the Alps, for the Feast of Epicurus. Emperor Augustus reserved the "Asparagus Fleet" for hauling the vegetable, and coined the expression "faster than cooking asparagus" for quick action.
It is a good source of vitamin B, calcium, magnesium and zinc, and a very good source of dietary fibre, protein, beta-carotene, vitamin C, vitamin E, vitamin K, thiamine, riboflavin, rutin,niacin, folic acid, iron, phosphorus, potassium, copper, manganese and selenium, as well as chromium, a trace mineral that enhances the ability of insulin to transport glucose from the bloodstream into cells. The amino acid asparagine gets its name from asparagus, as the asparagus plant is relatively rich in this compound.
Sun: Full Sun in spring and fall/ Partial Shade in summer
Spacing: 12-18in
Height: 18cm (7in)
Soil Ph: 6.5-7.5
Days To Maturity: 730
Sowing Method: Direct Sow Outdoors
Terms and conditions, READ THIS PLEASE: Orders over $14 from this ad will be shipped with tracking, Otherwise: Seeds will be shipped economy/standard or first class 2-10 day shipping (NO TRACKING and no planting instructions to keep seed costs to the buyer low), in a ziplock baggie. Our goal is to save you money on quality seeds. We are responsible sellers, and we make sure our buyers are well taken care of. Shipped within 2 business days after payment. We are a seller that caters to experienced gardeners. (germination and plant care information is readily available online, but if you can't find germinating and care instructions, please feel free to message us). Most of our listings include germination instructions, so we do not ship growing instructions. Multiple orders of a single item will be combined into 1 ziplock. We are not responsible for buyer germination success, seeds have been tested. Seed count is approximate, and packaged by weight. Seeds vary in size, weight is exact, and based upon empirical count, quantity is estimated. Liability of seller is limited to the cost of the item(s).
Zellajake Farm and Garden: "Seeds for all your planting needs" since 2013