---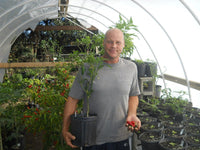 Always Free Shipping!
Item specifics
Seller Notes: Germination test date and results will be on packet.
Sunlight: full sun to slightly shaded in Z9 & up
Brand: zellajake
Country/Region of Manufacture: United States
Jalapeno Pepper Seeds
How to Grow Jalapeno Peppers
1. Jalapeno seed germination takes 10-14 days.
2. Days to harvest are typically 80-100 days for seeds. Transplants take generally 60-80 days.
3. Spacing between rows should be 20-36 inches.
4. Leave a space between plants of one to two feet.
5. Plant seeds at a depth of ½ inch.
Jalapeno seeds germinate slowly during cool months.
Start seeds six to eight weeks before transplants are needed in the garden bed.
Growing jalapeno peppers is best in sandy soil enriched with matter.
Fertilize every few weeks during the early growth stages and every month thereafter.
If pepper plants produce leaves but little fruit, try a low-nitrogen fertilizer.
Jalapeno Pests in the Garden
Plant your peppers at the far end of the vegetable garden from the potatoes is a good idea because potato bugs like peppers for a change of taste. Major pests are pepper weevil, frog-eye leaf spot, aphids, and caterpillars.
Vegetable Gardening Tip
An old ironing board makes an excellent potting table. You can adjust it to the required height and it can be stored conveniently away when not in use.
Terms and conditions, READ THIS PLEASE: Orders over $14 from this ad will be shipped with tracking, Otherwise: Seeds will be shipped economy/standard or first class 2-10 day shipping (NO TRACKING and no planting instructions to keep seed costs to the buyer low), in a ziplock baggie. Our goal is to save you money on quality seeds. We are responsible sellers, and we make sure our buyers are well taken care of. Shipped within 2 business days after payment. We are a seller that caters to experienced gardeners. (germination and plant care information is readily available online, but if you can't find germinating and care instructions, please feel free to message us). Most of our listings include germination instructions, so we do not ship growing instructions. Multiple orders of a single item will be combined into 1 ziplock. We are not responsible for buyer germination success, seeds have been tested. Seed count is approximate, and packaged by weight. Seeds vary in size, weight is exact, and based upon empirical count, quantity is estimated. Liability of seller is limited to the cost of the item(s).
Zellajake Farm and Garden: "Seeds for all your planting needs" since 2013