---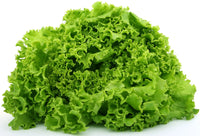 Always Free Shipping!!
Item specifics
Seller Notes: Germination test date and results will be on packet.
Sunlight: Full Sun USDA Hardiness Zone (°F): 3-10
Climate: Cold, Sub-tropical, Temperate
Watering: Medium
Soil Type: Clay, Loam, Peat, Sand, Silt Country/Region of Manufacture: United States
Season of Interest: Cool season
Green Ice Lettuce Seeds
Harvest well into summer!
Juicy, bright leaves of dark green are lightly savoyed for extra crispness!
45 days. Green Ice is one of the crispest, most satisfying loose-leaf lettuces you can grow. The leaves are glossy, dark green, and savoyed, giving them extra-crunchy texture in every bite. Ready in just 45 days, they are among the earliest, yet last well into summer, thanks to superior heat tolerance. This is one loose-leaf that just won't bolt! A distinctly different look and appeal, combining the large, ruffled look of a looseleaf with the crunchiness of a crisphead. Gardeners have enjoyed its bounty for years!
Lettuce thrives in cold weather and can be sown directly into the garden, starting in early spring. For an even earlier harvest, sow indoors; the seedlings don't mind transplanting. If a fall crop is desired, begin in late summer. Grow in single rows, plants spaced 18 inches apart, or in containers. 600 seeds will sow a 30-foot row.
Genus Lactuca
Species sativa
Variety Green Ice
Packet size Varied
Days To Maturity 45
Fruit Color Green
Seeds Per Pack 600
Additional Characteristics Cool Season, Direct Sow, Edible
Light Requirements Full Sun
Moisture Requirements Moist, well-drained
Resistance Heat Tolerant
Soil Tolerance Normal, loamy
Uses Outdoor
Terms and conditions, READ THIS PLEASE: Orders over $14 from this ad will be shipped with tracking, Otherwise: Seeds will be shipped economy/standard or first class 2-10 day shipping (NO TRACKING and no planting instructions to keep seed costs to the buyer low), in a ziplock baggie. Our goal is to save you money on quality seeds. We are responsible sellers, and we make sure our buyers are well taken care of. Shipped within 2 business days after payment. We are a seller that caters to experienced gardeners. (germination and plant care information is readily available online, but if you can't find germinating and care instructions, please feel free to message us). Most of our listings include germination instructions, so we do not ship growing instructions. Multiple orders of a single item will be combined into 1 ziplock. We are not responsible for buyer germination success, seeds have been tested. Seed count is approximate, and packaged by weight. Seeds vary in size, weight is exact, and based upon empirical count, quantity is estimated. Liability of seller is limited to the cost of the item(s).
Zellajake Farm and Garden: "Seeds for all your planting needs" since 2013