---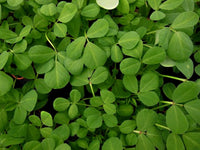 Always Free Shipping!!
Item specifics
Seller Notes: Germination test date and results will be on packet.
Climate: Sub-tropical, Temperate
Brand: zellajake
Country/Region of Manufacture: United States
Used in ancient Egypt!
Primary ingredient in the making of curry powder.
Native to India.
The leaves, or "methi" are very popular in Indian quisine.
MORE HISTORY AND INFO BELOW GROWING TIPS
Growing:
Fenugreek grows to about two feet (60cm), with yellow/white flowers and long yellow seedpods. It likes full sun and well-drained, neutral to slightly acid soil. It doesn't like to be transplanted. In spring, after the threat of frost has passed, sow seeds to a depth of a little less than a quarter inch. The seeds sprout quickly. Unlike many other herbs that thrive on neglect, fenugreek likes fertile soil, so be generous with the compost. Space plants five to six inches apart.
More Info:
Fenugreek has a long history as a breast enlarger and contains diosgenin which is used to make synthetic estrogen. It has been found to promote the growth of new breast cells and increase the size and fullness of the breasts. Of all the herbs used for breast enlargement fenugreek has the highest concentrations of the effective plant compounds. Diosgenin, a steroid sapogenin is the starting compound for over 60% of the total steroid production by the pharmaceutical industry. Other sapogenins found in fenugreek seed include yamogenin, gitogenin, tigogenin, and neotigogens.
While Fenugreek is considered the finest herb for enhancing feminine beauty it also aids in sexual stimulation, balances blood sugar levels, and contains choline which aids the thinking process. Fenugreek has been the focus of several studies concerning the treatment of diabetes and the prevention of breast cancer. Its ability to balance hormone levels aids in treating PMS and menopause. Its antioxidants slow ageing and help prevent disease.
The plant has also been employed against bronchitis, fevers, sore throats, wounds swollen glands, skin irritations, diabetes, ulcers, and in the treatment of cancer. Fenugreek has been used to promote lactation and as an aphrodisiac.
Fenugreek contains an amino acid called 4-hydroxyisoleucine, which appears to increase the body's production of insulin when blood sugar levels are high.
Terms and conditions, READ THIS PLEASE: Orders over $14 from this ad will be shipped with tracking, Otherwise: Seeds will be shipped economy/standard or first class 2-10 day shipping (NO TRACKING and no planting instructions to keep seed costs to the buyer low), in a ziplock baggie. Our goal is to save you money on quality seeds. We are responsible sellers, and we make sure our buyers are well taken care of. Shipped within 2 business days after payment. We are a seller that caters to experienced gardeners. (germination and plant care information is readily available online, but if you can't find germinating and care instructions, please feel free to message us). Most of our listings include germination instructions, so we do not ship growing instructions. Multiple orders of a single item will be combined into 1 ziplock. We are not responsible for buyer germination success, seeds have been tested. Seed count is approximate, and packaged by weight. Seeds vary in size, weight is exact, and based upon empirical count, quantity is estimated. Liability of seller is limited to the cost of the item(s).
Zellajake Farm and Garden: "Seeds for all your planting needs" since 2013