---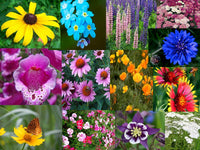 Always Free Shipping!!
This colorful deer retardant wildflower mix, with annuals, perennials, and biennials, will bloom for years to come!
There are many varieties of tiny seeds in this mix, so note the tip below.
PLANTING INSTRUCTIONS:
Plant either in the spring (one month prior to date of last hard freeze) or late fall (after October).
Germination test date and results will be on packet.
TIP! It is common for gardeners combine with clean, dry sand at a ratio of 3:1 (sand to seed) and scatter by hand or mechanical spreader. Gently rake over the area covering to a depth of 1/8 to 1/4 inch or 2-3 times the seed diameter. Keep moist for 4-6 weeks to ensure the best germination. This assists with even ditribution due to the small seed size of many wildflowers.
Common Name:

Four o clock, Formula Mix
Larkspur, Rocket 'Imperial Mix'
Lupine, Perennial
Poppy, Corn, Mixed
Pinks, Sweet William
Sweet Alyssum, Tall White
Hyssop, Purple Giant
Bergamot
Marigold, French 'Sparky Mix'

Seed counts are approximate, but we weigh heavy to ensure customer satisfaction.
Don't let the deer run your garden!
Terms and conditions, READ THIS PLEASE: Orders over $14 from this ad will be shipped with tracking, Otherwise: Seeds will be shipped economy/standard or first class 2-10 day shipping (NO TRACKING and no planting instructions to keep seed costs to the buyer low), in a ziplock baggie. Our goal is to save you money on quality seeds. We are responsible sellers, and we make sure our buyers are well taken care of. Shipped within 2 business days after payment. We are a seller that caters to experienced gardeners, or those that are capable of looking up instructions independently (germination and plant care information is readily available online, but if you can't find germinating and care instructions, please feel free to message us). We do not include growing instructions. Multiple orders of a single item will be combined into 1 ziplock. We are not responsible for buyer germination success, seeds have been tested. Seed count is approximate, and packaged by weight. Seeds vary in size, weight is exact, and based upon empirical count, and quantity is estimated. Liability of seller is limited to the cost of the item (s).