---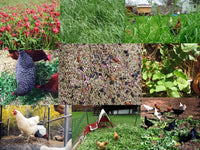 Always Free Shipping!!
Item specifics
Seller Notes: Germination test date and results will be on packet.
Country/Region of Manufacture: United States
Brand: zellajake
Keep your chickens healthy, and your family healthy, with this nutrient packed forage seed mix! For spring and fall planting.
This mix contains:
Ryegrass
Fescue
Clover
Mustard
Daikon radish
Buckwheat
Peas
Purple top turnip
This perfect chicken forage mix will increase their intake of xanthophylls and omega three. Chicken owners are aware that healthy chickens produce bright orange yolks as this is a sign of a happy and healthy hen. By giving your chickens plenty of this forage mix, you will start seeing this change in the yolks and even a denser, harder eggshell. Orange yolks are a clear indication of a well balanced and highly nutritious diet. Recent studies show chickens that free range or forage on proper elements produce eggs with higher levels of vitamin A, D and E and much more. Hens that produce this quality of eggs is what you want to be feeding to your family.
The mixix will also draw in the proper insects that your chickens require to have a balanced diet. After all, chickens are omnivores by nature, eating grains and insects.
This chicken forage crop mix is designed to be very easy to grow and easy to germinate. Set up a perimeter around seedlings until the plot has developed, about 6" in height.
All varieties are non-gmo and untreated in this mix. The clover is coated with an OMRI listed coating.
Seed Rate: 5lbs./1,000 sq. ft.
Seed Depth: ¼ inch
Planting Time: Spring, Fall
Inoculant: Pre-Inoculated
Terms and conditions, READ THIS PLEASE: Orders over $14 from this ad will be shipped with tracking, Otherwise: Seeds will be shipped economy/standard or first class 2-10 day shipping (NO TRACKING and no planting instructions to keep seed costs to the buyer low), in a ziplock baggie. Our goal is to save you money on quality seeds. We are responsible sellers, and we make sure our buyers are well taken care of. Shipped within 2 business days after payment. We are a seller that caters to experienced gardeners. (germination and plant care information is readily available online, but if you can't find germinating and care instructions, please feel free to message us). Most of our listings include germination instructions, so we do not ship growing instructions. Multiple orders of a single item will be combined into 1 ziplock. We are not responsible for buyer germination success, seeds have been tested. Seed count is approximate, and packaged by weight. Seeds vary in size, weight is exact, and based upon empirical count, quantity is estimated. Liability of seller is limited to the cost of the item(s).
Zellajake Farm and Garden: "Seeds for all your planting needs" since 2013
Image Credit Flickr Creative Commons - Chris Fleming - https://www.flickr.com/photos/chrisfleming/