---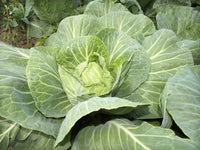 Always Free Shipping!!
Item specifics
Seller Notes: Germination test date and results will be on packet.
Country/Region of Manufacture: United States Climate: Cold, Sub-tropical, Temperate
Brand: zellajake
Cabbage Brunswick is a large drumhead-type, winter cabbage. Introduced in Germany in 1924 this reliable old heritage variety has been grown in home gardens and commercially ever since.
It is a solid white globe shaped cabbage that produces good, hard heads that can grow to around 25cm (10in) in diameter and average 5 kg (12lbs) in weight.
This fine flavoured, popular variety matures in about 90 days. It is cold hardy and drought tolerant and perfect for autumn-winter harvesting.
Brunswick can be sown early and be grown to huge proportions. It can be sown successionally and grown year round but is more usually sown in March to May for harvesting August to October. It can be used in soups or stews, made into sauerkraut or coleslaw.
Prepare the site:
All brassica crops grow best in partial-shade, in firm, fertile, free-draining soil. Start digging over your soil as soon as you can brave the elements. Remove any stones you find and work in plenty of well-rotted manure or compost. Tread on the soil to remove air pockets and to make the surface firm. Brassicas will fail if the soil is too acidic; add lime to the soil if necessary, aiming for a pH of 6.5 to 7.5.
Sowing: March to May
Nearly all brassicas should be planted in a seedbed or in modules under glass and then transferred. Seeds should be sown thinly, as this reduces the amount of future thinning necessary and potential risk from pests.
Sow seeds 1.25cm (½in) deep and space 15 to 20cm (6 to 8in) between rows.
Once the seeds have germinated, thin the seedlings to 7.5cm (3in) between each plant. After germination, seedlings will often be 'leggy', so plant them as deep as possible to really anchor them into the soil.
Terms and conditions, READ THIS PLEASE: Orders over $14 from this ad will be shipped with tracking, Otherwise: Seeds will be shipped economy/standard or first class 2-10 day shipping (NO TRACKING and no planting instructions to keep seed costs to the buyer low), in a ziplock baggie. Our goal is to save you money on quality seeds. We are responsible sellers, and we make sure our buyers are well taken care of. Shipped within 2 business days after payment. We are a seller that caters to experienced gardeners. (germination and plant care information is readily available online, but if you can't find germinating and care instructions, please feel free to message us). Most of our listings include germination instructions, so we do not ship growing instructions. Multiple orders of a single item will be combined into 1 ziplock. We are not responsible for buyer germination success, seeds have been tested. Seed count is approximate, and packaged by weight. Seeds vary in size, weight is exact, and based upon empirical count, quantity is estimated. Liability of seller is limited to the cost of the item(s).
Zellajake Farm and Garden: "Seeds for all your planting needs" since 2013