---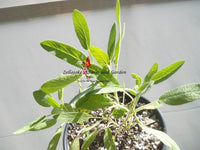 Buy Two Orders Sage Seeds, Get One Order Sage Seeds Free (300 Total)
Simply buy two orders and we will ship 3 orders in one packet.
Grow in average, dry to medium moisture, well-drained soil in full sun. Tolerates very light shade, but best in full sun. Plants tend to sprawl, particularly when grown in less than full sun. Wet soils can be fatal.
This species of sage is the culinary sage familiar to most cooks. It also has excellent ornamental qualities, however. Variably called culinary sage, common sage or garden sage, this woody-stemmed, semi-shrubby perennial typically grows 1.5-2.5' tall. Features whorls of two-lipped, lavender-blue flowers (to 1 inch long) in short, upright spikes in late spring. Wrinkled, gray-green leaves (to 4" long) are strongly aromatic and are frequently used fresh or dried in cooking as a seasoning. A mint family member that is attractive to bees and butterflies.
Germination test date and results will be on packet.
Seeds can be started in trays or pots indoors – cover only with a sprinkle of compost cover, and put in a warm spot until spouting is visible (this should be around 10-21 days if all goes well). Light is helpful to sage for germination, so ensure you keep your propagator in a well lit area.Try to aim for a seed spacing of at least 1" and sow at a depth of around 1/4". Soil temperature should be kept higher than 60°F to ensure good germination.
Terms and conditions, READ THIS PLEASE: Orders over $14 from this ad will be shipped with tracking, Otherwise: Seeds will be shipped economy/standard or first class 2-10 day shipping (NO TRACKING and no planting instructions to keep seed costs to the buyer low), in a ziplock baggie. Our goal is to save you money on quality seeds. We are responsible sellers, and we make sure our buyers are well taken care of. Shipped within 2 business days after payment. We are a seller that caters to experienced gardeners. (germination and plant care information is readily available online, but if you can't find germinating and care instructions, please feel free to message us). Most of our listings include germination instructions, so we do not ship growing instructions. Multiple orders of a single item will be combined into 1 ziplock. We are not responsible for buyer germination success, seeds have been tested. Seed count is approximate, and packaged by weight. Seeds vary in size, weight is exact, and based upon empirical count, quantity is estimated. Liability of seller is limited to the cost of the item(s).
Zellajake Farm and Garden: "Seeds for all your planting needs" since 2013