---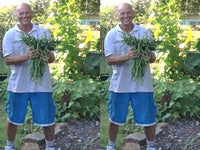 Dark green pods with purple red end tip and black beans are 18-24 inches long, round and straight, very meaty with firm texture that are well flavored. This variety is suitable for growing in tropical areas, adapting to heat and rain very well. The plant is later maturing and high yielding, very popular in Taiwan, Southern China and Suthern Asia.
THIS BEAN CAN TAKE FLORIDA HEAT!
Germination test date and results will be on packet.
Yardlong Bean, also called Chinese Long Bean, is a vigorous climbing annual and the plant begins to produce long pods 60 days after sowing. The pods hang in pairs that should be picked for vegetable uses before matured. Yardlong Bean is a subtropical/tropical plant and is widely grown in Southeastern Asia, Thailand and Southern China. It is a very interesting plant to grow - you almost need to check/harvest long beans everyday because they grow very quick in warm climates. It is, however, sensitive to the temperature and grows relatively slow in mild/cold environments. Like to grow common beans, it is recommended to rotate the planting locations every year for getting the best results - do not repeat planting at the same spots within 3-4 years. Edible pods are very crisp, tender and delicious. Long beans are cut into shorter sections and cooked like common green beans. There are many varieties grown in the Orient and they are generally identified by the color of the matured seeds.
Terms and conditions, READ THIS PLEASE: Orders over $14 from this ad will be shipped with tracking, Otherwise: Seeds will be shipped economy/standard or first class 2-10 day shipping (NO TRACKING and no planting instructions to keep seed costs to the buyer low), in a ziplock baggie. Our goal is to save you money on quality seeds. We are responsible sellers, and we make sure our buyers are well taken care of. Shipped within 2 business days after payment. We are a seller that caters to experienced gardeners. (germination and plant care information is readily available online, but if you can't find germinating and care instructions, please feel free to message us). Most of our listings include germination instructions, so we do not ship growing instructions. Multiple orders of a single item will be combined into 1 ziplock. We are not responsible for buyer germination success, seeds have been tested. Seed count is approximate, and packaged by weight. Seeds vary in size, weight is exact, and based upon empirical count, quantity is estimated. Liability of seller is limited to the cost of the item(s).
Zellajake Farm and Garden: "Seeds for all your planting needs" since 2013