---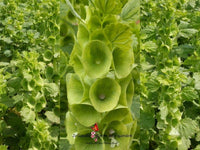 Bells of Ireland Seeds
Bells of Ireland flowers are an incredibly unique, and are a perfect choice for cut flower arrangements or for drying.
Please place all desired items in cart before purchasing. Thanks for shopping with us! J
This is one of very few flowers in the world that blooms with green petals. Bells of Ireland readily re-seeds and can usually be relied upon for years of successive bloom.
Put seed in moist white paper towel, fold and place in zip-lock bag, then refrigerate for 2-4 weeks. Barely cover seeds with fine grit or soil. Seeds need light to germinate. Kept at 70-75° F., germination is in 14-28 days after removing from the refrigerator and planting just beneath soil surface.